Nightmare for businesses trying to get paid from zombie firms: end of furlough, rising inflation, stagflation and the Government's Plan B (but there is an easy solution)
ICSM's Ian Carrotte has warned members of the business credit intelligence group that October spells a potential nightmare for those trying to get paid from struggling customers and zombie firms - but there is an easy solution with ICSM's free legal letters that get results.
End of Furlough
"We are getting anecdotal reports daily of firms telling their suppliers they can't pay their invoices and are threatening to shut up shop as soon as the furlough payments end," he said. "They are simply hanging on until the furlough ends as that's the only source of income after they've used up all the loans which they can't repay. With just two weeks to go it is vital that businesses use our free legal letters to force their clients to pay up ahead of insolvency. We often find that those who chase up payment in the last few days or weeks of a company collapse will get paid as the directors deny there's a problem."
The dreaded Plan B
The nightmare for businesses is growing after the prospect of further lockdowns and restrictions on workers returning to the office as outlined by the Government's Plan B. It will be instigated if the numbers of those seriously ill with Covid-19 and committed to hospital rise above 7,000 or so a day. Already the numbers dying of the virus are much higher than this time last year when there was no vaccine widely available. By simply raising the prospect of a return to masks, homeworking and chut downs is enough to cause businesses to plan for the worst scenario.
Back to the 70s with stagflation
Those with long memories will recall the days of stagflation in the 1970s. triggered by the Oil Crisis following the October war between Israel and Egypt when the Organization of Petroleum Exporting Countries (OPEC) constrained the worldwide supply of oil hiking prices. Britain was already in an economic downturn meaning there was inflation caused by the oil crisis and a recession that lasted two years. Commentators have been warning for some time that inflation is likely to increase while at the same time economic growth will plateau or fall. That's stagflation.
Inflation is rising
The Office of National Statistics (ONS) has released the latest inflation figures showing inflation rose 3.2% in July. That has sent shock waves across business as the consumer prices index (CPI) measure of inflation for August was the highest for 14 years. If the trend continues then many firms will fail as their overheads will rise but profit margins will remain low due to the knock-on effect of customers having less to spend. The Government's inflation target is two percent. Pre-pandemic the rate of inflation annually was around 2% or under. Back in 2008 the credit crunch hiked inflation rates over 2% for five years before once again the bank of England could sleep easy in their leather armchairs. With shortages caused by Brexit and Covid the temptation is to raise prices as sales dip creating an inflationary circuit.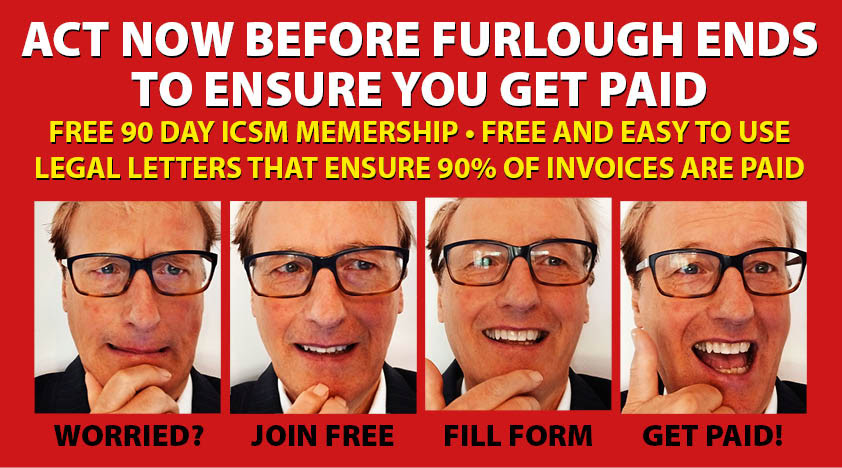 ACT NOW TO GET PAID!
Printers, hauliers, builders, retailers, hotels: the end of furlough Armageddon is happening as firms large and small are going bust as they come off life-support.

Ian Carrotte of ICSM said the 'nasty side of business is happening' as accounts departments begin to block payment, delay signing cheques and making excuses why bills are not being settled.

90% OF OVERDUE INVOICES GET PAID

"With the scrapping of the furlough payments in September we are seeing the beginning of the end of many zombie firms," he said, "the atmosphere has changed with members of ICSM who supply to all sectors of business, reporting difficulties in getting paid."

90 DAY FREE MEMBERSHIP

ICSM currently is offering a 90 day free membership and the use of their free legal letters to help firms get paid money they are owed.

"It's simple," he said, "go to the website at www.icsmcredit.com, join up free and complete the free legal letter to your debtor. In 90% of cases, even for long overdue accounts, they get paid as the letter comes from ICSM, the leading credit intelligence business group in the UK."

SIMPLE AND EASY

To see how straightforward the system is visit https://youtu.be/AIycysoFhYo

And for debtors who refuse to pay then our debt recovery sector retrieves tens of thousands of pounds for ICSM members every month.

For details about ICSM Credit call 0844 854 1850 or visit the website www.icsmcredit.com or email Ian at Ian.carrotte@icsmcredit.com
About ICSM Credit
ICSM Credit has more than four decades of experience as a credit intelligence group whose members gain inside information about firms in trouble allowing them to avoid bad debts and rogue traders. To join costs less than a tank of fuel - while at the moment there's a special free temporary membership offer during the Covid-19 crisis which gives access to free legal letters. ICSM also has an effective debt collecting service which has a global reach - ask for details from Paul.
For details about ICSM Credit call 0844 854 1850 or visit the website www.icsmcredit.com or email Ian at Ian.carrotte@icsmcredit.com on how to subscribe and to join the UK's credit intelligence network to avoid bad debts and late payers. Follow ICSM Credit on FaceBook, Twitter and YouTube and Ian Carrotte on LinkedIn.
To keep up to date subscribe to the FREE ICSM Credit Newsletter to hear all the latest insolvency news and to see who has gone out of business click on the orange panel on the top left of the home page of the website www.icsmcredit.com or send an email to Ian.carrotte@icsmcredit.com
For details for the work of the journalist Harry Mottram visit www.harrymottram.co.uk